America, Perspective/In Concert (BGO)
Two out-of-print albums from Gerry Beckley and Dewey Bunnell circa 1984 and 1985 are now available as a two-for-one CD from the U.K.'s BGO label!  Read more here.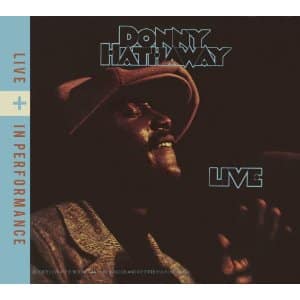 Donny Hathaway, Live + In Performance (Shout! Factory)
The Shout! Factory label combines two of the late soul man's live albums (the first, from 1972, and the second, a posthumous set from 1980) in one package, newly remastered by Steve Hoffman.  Read more here.
Elton John vs. Pnau, Good Morning to the Night (Mercury/Casablanca)
Sir Elton opened up his vaults to Australian dance-pop duo Pnau, and the result is this club-ready collection of mash-ups!  Eight new songs have been created from Elton favorites as well as deep tracks.  Read more here.
MC Squared, Tantalizing Colours: The Reprise Recordings (Now Sounds)
Now Sounds unearths a long-lost album from a psychedelic band including session vets Randy Sterling and Jim Keltner, circa 1968!  The label describes the band as "sounding like a unique hybrid of The Mamas and the Papas and Jefferson Airplane," which strikes us as about right!  Watch for Joe's run-down soon.
Melba Moore, This Is It: Expanded Edition (Funky Town Grooves)
Melba Moore's 1976 collaboration with producer Van McCoy is expanded with two bonus tracks!
Sam Phillips, Martinis & Bikinis (Omnivore Recordings)
Sam Phillips' classic pop-inspired 1994 LP, produced by T Bone Burnett, arrives on CD and vinyl with four bonus tracks!  Keep an eye open for Joe's review tomorrow.  Read more here!
Various Artists, Pete Waterman Presents the Hit Factory (Sony U.K.)
This affordably-priced box set rounds up eighties classics from Bananarama, Kylie Minogue, Jason Donovan, Rick Astley, Cliff Richard and Samantha Fox, among others from the famed PWL label!  Read more here.