Emerson, Lake & Palmer, Emerson, Lake & Palmer / Tarkus: Deluxe Editions (Razor & Tie)
Full review coming soon, but you should know that these are 2-CD/1-DVD sets featuring unreleased alternate takes and 5.1 surround mixes for these two classic prog-rock LPs.
Dio, Singles Box Set (UMC)
A U.K.-made collectible box replicating all of Dio's Vertigo 12" singles, plus the Intermission live EP and a DVD of music videos.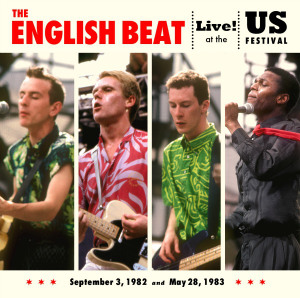 The English Beat, Live at The US Festival '82 & '83 (Shout! Factory)
Initially available as a pre-order bonus with Shout! Factory's Complete Beat box, this CD/DVD set (featuring audio highlights from the group's two US Festival sets and the complete shows on video) is the last piece of what's been a great year for The Beat's catalogue.
The Knack, Rock and Roll is Good for You: The Fieger/Averre Demos (Omnivore)
Sixteen demos spotlighting the songwriting partnership between Doug Fieger and Berton Averre (including an early version of "Good Girls Don't") are unleashed on disc.
Various Artists, Broadway in a Box: The Essential Broadway Musicals Collection (Masterworks Broadway)
Need a major musical fix? How about 25 of the best original cast albums ever, including My Fair Lady, South Pacific, West Side Story and A Chorus Line, in one box?

The Desert Song: Studio Cast Recording (RCA/Masterworks Broadway)
The premiere CD release of this 1959 studio revival of a classic operetta.
Dave Brubeck Quartet, Time Out (Hybrid SACD) (Analogue)
This immortal jazz album, newly reissued by Analogue Productions, includes a brand-new stereo SACD remaster, plus the long out-of-print original Sony multi-channel mix and standard CD stereo layer. Not bad at all!
Duran Duran, The Biggest and The Best! / Yazoo, The Collection (Music Club Deluxe)
A pair of U.K. budget compilations from Demon combine hits, B-sides and album cuts from these two great '80s bands.
David Guetta, Nothing But the Beat 2.0 (AstralWerks)
The French DJ/producer's guest-heavy 2011 pop album gets reorganized and expanded.