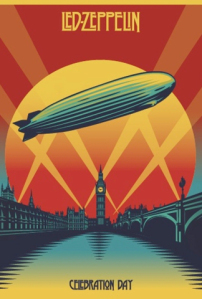 It was the reunion everyone wanted, but possibly never expected. On December 10, 2007, at London's O2 Arena, Robert Plant, Jimmy Page, John Paul Jones and Jason Bonham (John's son) took the stage as Led Zeppelin for the first time since the band broke up in 1980. (Page, Plant and Jones had several tepidly-received reunions in the '80s, one at Live Aid and one at the Atlantic Records 40th anniversary concert, but none were considered by the band to be true Led Zeppelin performances.) It was the passing of Ahmet Ertegun, Atlantic Records founder and mentor to the group, that got them together, and the 16-song set was a fitting tribute to the musical icon.
This year, five years after that landmark performance before some 16,000 attendees, Atlantic Records is finally making that concert available to the public as Celebration Day. It's a fitting tribute for one of the heaviest bands in the world, with an international theatrical release planned starting October 17, followed by a multi-format release on November 19.
[youtube=http://www.youtube.com/watch?v=VbusDxLekPQ]
On September 21, the full release plan for Celebration Day was announced. The show will be featured as:
Deluxe editions: 2-CD/2-DVD and 2-CD/1-DVD/1-BD editions will feature an additional DVD "featuring exclusive bonus video content including the Shepperton rehearsals and BBC news footage"
A music-only edition on Blu-Ray, "featuring high-resolution 48K 24-bit PCM stereo and DTS-HD Master Audio 5.1 surround sound" (link forthcoming)
A 180-gram triple-vinyl edition (link forthcoming)
A digital download
The set list and pre-order links (in case you missed them up top) are after the jump.
Led Zeppelin, Celebration Day (2-CD, 2-CD/1-DVD, 2-CD/1-BD, 2-CD/2-DVD, 2-CD/1-DVD/1-BD) (Swan Song/Atlantic, 2012)
Good Times Bad Times
Ramble On
Black Dog
In My Time of Dying/Honey Bee
For Your Life
Trampled Under Foot
Nobody's Fault But Mine
No Quarter
Since I've Been Loving You
Dazed and Confused
Stairway to Heaven
The Song Remains the Same
Misty Mountain Hop
Kashmir
Whole Lotta Love
Rock and Roll