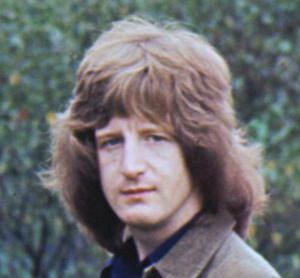 The name of Pete Ham may not be familiar to everyone, but his work certainly is.  As a member of Badfinger, Ham penned "Day After Day," "Baby Blue" and "No Matter What," as well as a little song with Tom Evans called "Without You" which became a chart-topper for both Harry Nilsson and Mariah Carey, decades apart.  Ham tragically took his own life in 1975 at the age of 27, leaving behind a small but significant legacy in pop and rock.  Two collections of Ham's personal demo recordings have previously been released on compact disc, 1997's 7 Park Avenue and 1999's Golders Green.  Now, the Ham estate is looking to add a third title to that list.  Dan Matovina, of the Pete Ham Estate, has launched a campaign via Pledge Music with the blessing of Ham's daughter Petera for the release of Keyhole Street: Demos 1966-1967, a 2-CD, 50-track compilation.  (Ham's wife was pregnant with Petera when he died.)
Keyhole Street is scheduled to coincide with a plaque dedication ceremony and tribute concert to be held in Pete Ham's memory on April 27, 2013 (his birthdate) in his hometown of Swansea in Wales.  The 50 demos slated for inclusion on the new set were all recorded by Ham at the ages of 19 and 20 while a member of the Iveys, the group that eventually became Badfinger.  The songs were recorded on a two-track Sound on Sound machine at the Iveys' London residence, and Matovina promises that the diverse material includes "elements of classic balladry, Pink-Floydian psychedelia, rock'n'roll tributes, R&B, Beach Boys type harmonies, interesting instrumentals, music hall stereotypes, an Elvis tribute, blues, humorous lyrical content, Beatle-ish tracks, and a horror film soundtrack."  Ham was always a prolific songwriter, having written or co-written one-half of the Iveys' Apple Records debut Maybe Tomorrow (1969) and more than half of Magic Christian Music (1970), the first release under the Badfinger name.  These early demos will offer a chance to see Ham's style in its embryonic stage, and no overdubs have been made to Ham's original recordings.
Here's where you come in.  Keyhole Street will only be offered via Pledge Music, and only once its monetary goal is reached.  (As of this writing, that goal is 52% accomplished.)  The Ham Estate is offering a variety of packages for those interested in pledging, from a $10 pledge that will yield an 8-track sampler (6 songs from Keyhole Street, and two more "exclusives" including one previously unreleased track) to a $250 pledge for a copy of the finished CD, special thanks in the CD booklet, a poster and a 7-inch vinyl.  (The $500 level pledge for an Executive Producer credit and more is already sold out.)   One incentive level ($20+) adds two digital bonus tracks to the 50-track digital program.  A $30 pledge will net you the actual 50-track CD.
A special vinyl single is also being created for Pledge Music!  Hit the jump for details on "No, Let It Go" and more!
Pledge Music is also making available an exclusive 7-inch vinyl record entitled "No, Let It Go."  Unlike the demos on Keyhole Street, this song was recorded not long before Ham's death.  It has been paired with the 1972 demo "You're Such a Good Woman."  While Keyhole Street's tracks will remain unaltered, both songs on the single have been newly augmented by contributions from Probyn Gregory and Nelson Bragg of Brian Wilson's band and the 50th anniversary Beach Boys touring group; Jonathan Lea of Jigsaw Seen; solo artists Chris von Sneidern and Pete Fox; plus Mike Romanowski.  (This group has also overdubbed more of Ham's recordings for future release.)
Most of Badfinger's fans know the morbid postscript to Pete Ham's story that found his bandmate and co-writer Tom Evans also committing suicide some years later in 1983, similarly despondent over the band's internal and financial struggles.  With Keyhole Street, the emphasis is squarely on the music and celebrating the art left behind by this talented songwriter and artist.  As with pledges made to the similar site Kickstarter, no money is taken by Pledge Music until the Ham estate reaches its goal.  The deadline for pledges is January 31, 2013.  You can visit Pledge Music for all of the details on how to contribute to this latest chapter in the legacy of The Iveys, Badfinger and Pete Ham.