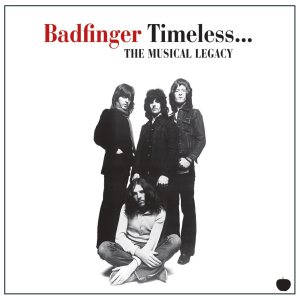 Badfinger fans have had plenty of opportunities to "come and get it" in 2013.  This past spring, the Estate of Pete Ham utilized Pledge Music to release Keyhole Street: Demos 1966-1967, a 2-CD, 50+-track compilation from the late singer-songwriter.  More recently, late last month, Edsel issued its own 2-CD set containing both of Badfinger's post-Apple records for Warner Bros. plus In Concert at the BBC 1972-3.  Badfinger/Wish You Were Here/In Concert at the BBC 1972-3 arrived to some fortuitous news, however.  When the September 29 series finale of AMC's Breaking Bad made pivotal use of Badfinger's "Baby Blue," some 10.3 million people heard the song which reached No. 14 back in 1972.  By the next morning, the Todd Rundgren-produced, Pete Ham-written track had been downloaded more than 5,000 times – and roughly another 30,000 times over the following week.  Badfinger had made it...again.  Now, Apple Records is celebrating the band's endurance with the release of Timeless...The Musical Legacy of Badfinger.
Arriving in stores today in the U.K., Timeless was originally rumored for release nearly two years ago.  A track listing leaked to various online forums in early 2012, and indeed, it's the sequence being issued on CD today.  The 16-track compilation draws on all four of Badfinger's Apple albums from 1970 to 1973 (Magic Christian Music, No Dice, Straight Up, and Ass), only overlooking Maybe Tomorrow, released under the band's original name of The Iveys.  The Warner Bros. years are represented by 1974's Wish You Were Here, and the compilation concludes with a track from the 1979 Elektra LP Airwaves.
All of the Apple tracks have been derived from the 2010 remasters (reviewed in depth here).  Paul McCartney's "Come and Get It," so memorably utilized in the off-the-wall Peter Sellers/Ringo Starr comedy The Magic Christian, is one of four tracks from Magic Christian Music (naturally).   Three songs have been taken from No Dice, including Ham and Evans' future chart-topper for Harry Nilsson and Mariah Carey, "Without You," and Ham's rocking "No Matter What."  In addition to "Baby Blue," Straight Up is also represented by two George Harrison productions – Ham's immortal "Day After Day" (with George on slide guitar!) and "Name of the Game" – plus Joey Molland's "Suitcase."  From the 2010 expanded edition of Straight Up, the group composition "I'll Be the One" has also been selected; Harrison reportedly nixed the song from the original LP for being "too Beatley."  Just two songs have been lifted from Apple farewell Ass: "Apple of My Eye" and "Timeless," both Ham songs.  Ham's "Dennis" appears from Wish You Were Here, while Molland's "Love is Gonna Come At Last" is the sole pick from Airwaves.
After the jump, we have more details on Timeless including a full track listing with order links!
Timeless has three fewer songs than 2000's similar Apple/Warner Bros. compilation The Very Best of Badfinger, so fans might not want to discard that disc just yet.  The original 1995 CD The Best of Badfinger has even more tracks (21) but only includes Apple material; the appropriate companion for that release is Rhino's The Best of Badfinger: Volume II, with seventeen songs from the Warner Bros. and Elektra periods including rarities.
Online retailers are carrying a listing for a Badfinger ICON volume titled Timeless...The Musical Legacy due in the U.S. on December 10.  ICON titles typically offer a mere eleven tracks, so it's unclear whether Timeless will be a distillation of the British compilation or just an unusually lengthy volume in the budget series.  Stay tuned for more details.  In the meantime, Timeless - the first Badfinger compilation to use the recent remastered tracks - is available now, and can be ordered from Amazon U.K. at the link below.  We've provided a link to the upcoming ICON title, as well.
Badfinger, Timeless...The Musical Legacy of Badfinger (Apple/EMI CD, 2012) (Amazon U.K.) (ICON - Amazon U.S.)
Day After Day (Pete Ham)
Without You (Pete Ham/Tom Evans)
Rock Of All Ages (Tom Evans/Mike Gibbins/Pete Ham)
Dear Angie (Ron Griffiths)
Come And Get It (Paul McCartney)
Maybe Tomorrow (Tom Evans)
No Matter What (Pete Ham)
Baby Blue (Pete Ham)
Believe Me (Tom Evans)
Name Of The Game (Pete Ham)
I'll Be The One (Tom Evans/Joey Molland/Pete Ham/Mike Gibbins)
Apple Of My Eye (Pete Ham)
Suitcase (Joey Molland)
Timeless (Pete Ham)
Dennis (Pete Ham)
Love Is Gonna Come At Last (Joey Molland)
Tracks 1, 8, 10 & 13 from Straight Up, Apple SAPCOR 19, 1971
Tracks 2, 7 & 9 from No Dice, Apple SAPCOR 16, 1970
Tracks 3-6 from Magic Christian Music, Apple SAPCOR 12, 1970
Track 11 from Straight Up: Expanded Edition, Apple/EMI CD 5099964244020, 2010
Tracks 12 & 14 from Ass, Apple SAPCOR 27, 1973
Track 15 from Wish You Were Here, Warner Bros. LP 2827, 1974
Track 16 from Airwaves, Elektra 175, 1979