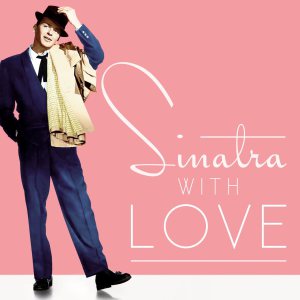 Late last October, Frank Sinatra Enterprises - the joint venture between the late artist's family and Warner Music Group - and Universal Music Enterprises quietly made history when they announced that, for the first time, Sinatra's Capitol and Reprise catalogues would be united under the terms of a new agreement in North America.  (UMe previously had the Reprise-era license for a series of European straight album reissues.  Concord Music Group had, until recently, been releasing Sinatra's Reprise reissues in the United States.)  UMe, who controls the singer's Capitol catalogue as a result of its purchase of Capitol from EMI, acquired the license for his Reprise material, finally bringing the bulk of his recordings under one roof for a longer term than just a one-off release.  (Sony Music still controls Sinatra's early RCA Victor and Columbia recordings.)  UMe and FSE launched Signature Sinatra, a new imprint dedicated to the artist, with the multiple-format reissues of Duets and Duets II, and UMe has also released a handful of budget projects with the Sinatra imprimatur (and both Capitol and Reprise material) including two Icon volumes and a 5 Classic Albums entry.  Now, with the Sinatra Centennial of 2015 just a year away (and the promise of new reissues and perhaps even a comprehensive box set), Signature Sinatra has announced its second project, a Valentine's Day-aimed anthology entitled Sinatra, with Love.  It's due from Capitol Records on January 28.
Sinatra, with Love naturally covers familiar ground, as similar compilations have been released in the past by both Capitol and Reprise.  This set's repertoire, spanning the period between 1954 and 1988, is evenly divided down the middle between both eras and features contributions by arrangers including Nelson Riddle, Neal Hefti, Don Costa, Billy May and Eumir Deodato.  There are, naturally, staples of the Great American Songbook (the Gershwins' "Love is Here to Stay," Jerome Kern and Dorothy Fields' "The Way You Look Tonight," Cole Porter's "From This Moment On," "I Love You" and "Just One of Those Things," the latter a somewhat odd choice for a romantically-inclined set!) as well as favorites from Sinatra's go-to team of Sammy Cahn and Jimmy Van Heusen ("The Tender Trap," "The Look of Love") and for this author's money the most sensual vocal ever recorded by Sinatra, of Antonio Carlos Jobim's "Wave."  One track has been confirmed by Nancy Sinatra at the Sinatra Family Forums as a previously-unissued recording: an alternate take of Victor Young and Ned Washington's "My Foolish Heart" from Sinatra's final Reprise studio session of June 6, 1988.  The 1995 Complete Reprise Recordings box set included one take of this song, arranged and conducted by Billy May, from the session during which Sinatra recorded at least 17 takes.  The previously unissued Sinatra, with Love take includes an unedited trumpet solo from Jack Sheldon.  Nancy states that "it is not the same take as on the Complete Reprise box set."
After the jump, we have more information including the complete track listing and pre-order links!
The Japanese release of Sinatra, with Love adds one bonus track to the standard 16-song line-up, Sinatra's recording of the Rodgers and Hart standard "My Funny Valentine."  No remastering (or remixing, as has been the case with some recent Sinatra projects) information is available as of yet.  You can pre-order Sinatra, with Love below.  And we'd also like to know: what Sinatra projects would you like to see arrive from Signature Sinatra?  What titles would you most like to see reissued and/or expanded for the upcoming Centennial?  Sound off below!
Frank Sinatra, Sinatra, with Love (Capitol/UMe, 2014) (Amazon U.S. / Amazon U.K.  )
Moonlight Becomes You
Love Is Here To Stay
Just One Of Those Things
Misty
Nice 'N' Easy
It Could Happen To You
The Way You Look Tonight
Love Looks So Well On You
(Love Is) The Tender Trap
I Love You
The Look Of Love
Something's Gotta Give
From This Moment On
Wave
It Had To Be You
My Foolish Heart
My Funny Valentine (Japan-only bonus track)
Track 1 from Moonlight Sinatra, Reprise, 1966
Track 2 from Songs for Swingin' Lovers, Capitol, 1956
Track 3 from Swing Easy!, Capitol, 1954
Track 4 from Sinatra and Strings, Reprise, 1962
Track 5 from Nice 'n' Easy, Capitol, 1960
Track 6 from Close to You, Capitol, 1957
Track 7 from Sings Days of Wine and Roses, Moon River and Other Academy Award Winners, Reprise, 1964
Track 8 from Sinatra Sings...of Love and Things, Capitol, 1962
Track 9 likely from Capitol single F-3290, 1955 (FS also recorded song for Sinatra-Basie: A Historic Musical First, Reprise, 1963)
Track 10 from Sinatra and Swingin' Brass, Reprise, 1964
Track 11 from Softly as I Leave You, Reprise, 1964
Track 12 from Come Dance with Me!, Capitol, 1959
Track 13 from A Swingin' Affair, Capitol, 1957
Track 14 from Sinatra and Company, Reprise, 1971
Track 15 from Trilogy: Past, Present, Future, Reprise, 1980
Track 16 rec. 6/6/88, previously unreleased
Track 17 likely from Songs for Young Lovers, Capitol, 1954 (FS' live and television performances have also been released of this song)