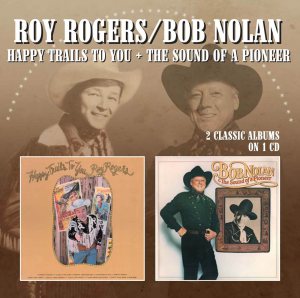 The Viva vaults are open! Viva Records, formed by producer Snuff Garrett ("The Night the Lights Went Out in Georgia," "Gypsies, Tramps and Thieves," "This Diamond Ring"), released a diverse catalogue of music during its roughly two-decade existence – light instrumental pop, garage rock, comedy, and more. But the label might be best-remembered for its string of country successes in the early 1980s, most notably from David Frizzell and Shelly West. Earlier this year, Varese Sarabande reissued a trio of Viva soundtracks featuring artists including Ray Charles, Peggy Lee, Chet Baker and Glen Campbell, and Cherry Red's Morello label tapped Viva (by special arrangement with Varese) for titles from Frizzell and West. Morello has added four more vintage LPs from the Viva and Snuff Garrett Enterprises vaults to its collection. These titles hail from bona fide country-and-western greats: Ray Price and Porter Wagoner, and Roy Rogers and Bob Nolan.
Happy Trails to You/The Sound of a Pioneer presents on one CD the 1975 and 1980 albums by Roy Rogers and Bob Nolan, respectively. Rogers (1911-1998), of course, was one of the most famous cowboys of all time thanks to his appearances on radio, television and film, and also charted hit singles between 1946 and 1991. But long before lending his name to a chain of chicken restaurants and even before meeting and marrying Dale Evans, Rogers co-founded western singing group The Sons of the Pioneers with Bob Nolan (1908-1980). Morello's new two-fer presents the Garrett-produced albums recorded by both men late in their careers. Happy Trails to You, arranged and conducted by Garrett's frequent collaborator Stephen Dorff, took its title from Rogers' signature song composed by his wife and first released as a single in 1952. In addition to a remake of "Happy Trails," the 20th Century Records LP featured Roy's recording of Hank Williams' "Cold, Cold Heart," a fitting western movie medley, and original songs penned by Garrett and Dorff.
Five years later, in 1980, Garrett and arranger-conductor Al Capps (Cher, Vikki Carr) gave a similar treatment to Bob Nolan. His The Sound of a Pioneer, a rare solo outing, also blended classic and contemporary material with an emphasis on his own material including western standards "Tumbling Tumbleweeds" and "Cool Water." Nolan initially resisted re-recording those tunes, but Garrett insisted on it and earned the singer's grudging acceptance. He also covered Billy Joe Shaver's "Ride Me Down Easy" and Rex Allen Jr.'s nostalgic 1976 hit "Can You Hear Those Pioneers." (Allen Jr. was the son of another famous singing cowboy, Rex Allen.) For Nolan's recording of Marty Robbins' "A Man Walks Among Us," Robbins himself added harmonies. Nolan passed away months after the release of the album on Elektra Records, but it was a fitting final statement by a true Pioneer.
After the jump: a look at the two-fer from Ray Price and Porter Wagoner, and full track listings and order links for both releases!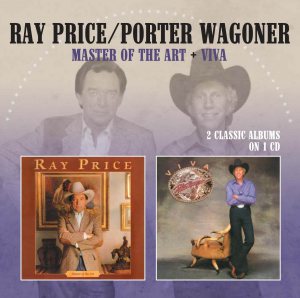 When Ray Price died last December at the age of 87, a 65-year career came to an end: a career that had weathered every change in country sound and style. Price and Porter Wagoner (1927-2007) both came to Snuff Garrett's rejuvenated Viva label as legends, and Garrett and his label partner Clint Eastwood repaid them with recordings that stand among their final hits. Price's Master of the Art wasn't an immodest title for the man who had popularized such titles as "For the Good Times," "Release Me," "Night Life" and "Heartaches by the Number." One of C&W's finest interpretive singers, Price recorded songs by the album's arranger-conductor Steve Dorff, Cliff Crofford and former Viva artist Alan O'Day. Crofford's "Willie Write Me a Song" was inspired by the same Mr. Nelson who wrote Price's hit "Night Life" years earlier. Crofford and Garrett co-wrote "Coors in Colorado" with John Durrill; it made No. 70 on the C&W singles chart, and Dave Guard's "Scotch and Soda" – an old Kingston Trio song – reached No. 72.
Price's album hit No. 48 on Billboard's C&W album chart – ironically, the same position that another 1983 Viva album would reach. The flamboyantly-attired Porter Wagoner, a.k.a. Mr. Grand Ole Opry, had appeared in Clint Eastwood's film Honkytonk Man and on its Garrett-produced soundtrack, and signed with the label for an album to be named after the label itself! The leadoff track on Viva, Jake Brooks' "This Cowboy's Hat," earned Wagoner the final charting single of his career when it peaked at No. 35. The album, again helmed by Garrett and Dorff, reprised favorites like "Green, Green Grass of Home" (a No. 4 hit for Porter in 1965) as well as Jerry Reed's "Misery Loves Company" which Wagoner took to No. 1 Country in 1962. Viva yielded another single with "That Was Then, This Is Now" b/w "Bottom of the Fifth," the latter co-written by Wagoner. It would be Porter's final album with Viva, but the tenacious star would continue recording through 2007's well-received "comeback" Wagonmaster on the ANTI- label.
Happy Trails to You/The Sound of a Pioneer has been remastered by Alan Wilson and features brief liner notes from Tony Byworth. Master of the Art/Viva has been remastered by Dave Shirk, and Michael Heatley has supplied the notes. These rare albums on CD are available now from Morello, and can be ordered at the links below!
Roy Rogers and Bob Nolan, Happy Trails to You/The Sound of a Pioneer (Morello MRLL 31, 2014) (Amazon U.S. / Amazon U.K.)
Cowboy Heaven
A Very Fine Lady
Hoppy, Gene and Me
Tennessee Stud
Happy Trails
Don't Cry, Baby
Movie Trail Medley (On the Old Spanish Trail/Along the Navajo Trail/Blue Shadows on the Trail)
Cold, Cold Heart
Good News, Bad News
Don't Ever Wear It For Him
Tumbling Tumbleweeds
He Walks with the Wild and the Lonely
That Old Outlaw Time
Cool Water
Can You Hear Those Pioneers
Man Walks Among Us
Texas Plains
The Touch of God's Hand
Old Home Town
Ride Me Down Easy
Wandering
Tracks 1-10 from Happy Trails to You, 20th Century LP T-467, 1975
Tracks 11-21 from The Sound of a Pioneer, Elektra LP 6E 212B, 1980
Ray Price and Porter Wagoner, Master of the Art/Viva (Morello MRLL 32, 2014) (Amazon U.S. / Amazon U.K.)
Living Her Life in a Song
Love Don't Get No Better Than This
Willie, Write Me a Song
In My Eyes
Coors in Colorado
Scotch and Soda
The Sun Never Comes Up Again
I Love You Eyes
You've Been Leaving Me for Years
Every Time I Sing a Love Song
This Cowboy's Hat
That Was Then, This is Now
I Thought I Heard You Calling My Name
Living in the Shadows
Heaven, Hell or Macon
We Can't Stop
Green, Green Grass of Home
His and Hers
Misery Loves Company
Bottom of the Fifth
Tracks 1-10 from Master of the Art, Warner Bros./Viva LP 1-23782, 1983
Tracks 11-20 from Viva, Warner Bros./Viva LP 1-23783, 1983