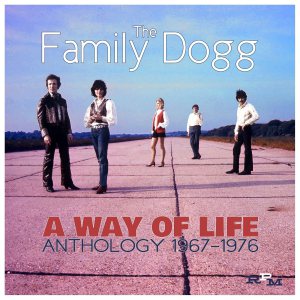 Few pop songwriters have proven as adaptable as Albert Hammond.  His string of hits dates from the 1960s straight through the 1990s, and his durable compositions continue to be recorded today.  Yet one chapter of the Hammond legacy has never been properly anthologized until now: his tenure with the British pop group The Family Dogg.  Cherry Red's RPM label has just delivered A Way of Life: Anthology 1967-1976, named for the band's U.K. Top 10 hit and including all of the band's recordings on two CDs.
The London-born, Gibraltar-raised Albert Hammond had recorded in the late 1950s as a member of The Diamond Boys, but came into his own in the 1970s scoring numerous successes as a songwriter with partner Mike Hazlewood (The Hollies' "The Air That I Breathe," The Pipkins' "Gimme Dat Ding," The Fortunes' "Freedom Come, Freedom Go") even as he was carving out a successful solo career with the U.S. Top 5 single "It Never Rains in Southern California."  Throughout the seventies, Hammond turned out more hits with Hal David (the AC chart-topper "99 Miles from L.A."), John Bettis and Richard Carpenter (The Carpenters' Top 25 single "I Need to Be in Love") and Carole Bayer Sager (Leo Sayer's "When I Need You," a No. 1 on both sides of the Atlantic).  Entering the eighties, he began a partnership with Diane Warren for such era-defining power ballads as Starship's "Nothing's Gonna Stop Us Now" (No. 1 U.S. & U.K., 1987) and Chicago's "I Don't Wanna Live Without Your Love" (No. 3 U.S., 1988) reteamed with David for Julio Iglesias and Willie Nelson's "To All the Girls I've Loved Before" (No. 5 U.S., 1984) and Bettis for Whitney Houston's "One Moment in Time" (No. 1 U.K., No. 5 U.S., 1988).  Hammond has also turned out hits for Aretha Franklin, Tina Turner, Diana Ross and even Ace of Base, not to mention fathering Albert Hammond, Jr. of The Strokes.  The roots of this success, however, can be traced to his brief time with Mike Hazlewood and Steve Rowland in The Family Dogg.
American Steve Rowland, a young actor who featured in films including Battle of the Bulge with Henry Fonda and Crime in the Streets with Sal Mineo, was singing with the Spanish band Los Flaps when he first met Albert Hammond of Gibraltar's Diamond Boys.  Their partnership wasn't immediate, however.  Rowland's travels took him to London, where he partnered with Ronnie Oppenheimer and formed Double R Productions.  At Double R, Rowland successfully produced such acts as Dave Dee, Dozy, Beaky, Mick and Tich.  It was in London that he ran into Hammond once more, who was in his own partnership with fellow Brit Mike Hazlewood as songwriters and producers.  The trio hatched plans to form a band of their own: The Family Dogg.
Hit the jump for more on the story of The Family Dogg, plus the full track listing with discography!
Inspired by the sounds of American sunshine pop (The 5th Dimension and The Mamas and the Papas, per Steve in the excellent new liner notes in RPM's compilation), The Dogg added two female singers – Jane Harries and Pam "Zooey" Quinn, with Harries quickly replaced by Doreen De Veuve when Harries' family felt she was too young to be traveling in such rock-and-roll circles.  Doreen was soon out of the group, too, replaced by Sue Avory.  The group made its debut with The Bee Gees' song "The Storm" for the MGM label, and at Fontana recorded songs by Brit songwriter Tony Hazzard ("Brown-Eyed Girl," not the Van Morrison song) and American group The Critters ("I'll Wear a Silly Grin").  Following a couple of singles at Fontana, the group moved to the young Bell Records label, where they scored a Top 10 hit with "A Way of Life," from proven hitmakers Roger Cook and Roger Greenaway ("You've Got Your Troubles").  (By this point, Doreen had been replaced by Christine Holmes.  The newest addition to The Family Dogg was already a West End veteran from the title role of the 1965 musical Charlie Girl.)
Bell gave the green light to an album by the band, and A Way of Life the LP featured the title track plus songs by Hammond and Hazlewood as well as Cook and Greenaway ("Today I Killed a Man I Didn't Know"), Jimmy Webb ("Pattern People"), Bob Dylan ("Love Minus Zero – No Limit"), Paul Simon ("Save the Life of My Child") and Stevie Wonder ("A Place in the Sun").  John Paul Jones, then in the process of forming his own little band called Led Zeppelin, contributed arrangements to the LP.  Previous sessions also featured Jimmy Page on guitar.  Rowland's poetry linked the tracks on the LP, which was issued in November 1969 with Hammond, Hazlewood and Rowland joined by De Veuve and Quinn on vocals.  (The revolving door of females would continue, with Ireen Sheer later stepping in for Quinn.)
Soon, the band was fracturing, however, with side projects for all three core band members taking up more of their time.  Following the Dutch Polydor single "Sympathy" in 1970, Hammond and Hazlewood decamped for America, which threatened to end The Family Dogg.  Rowland persevered, with the band's name changed to "Steve Rowland and the Family Dogg."  The View from Rowland's Head arrived in 1972 on Buddah Records as The Family Dogg's second and final LP.  A number of songs were written by a new discovery of Rowland's: the musician known as Rodriguez, who recently achieved belated fame thanks to the documentary Searching for Sugar Man.  Hammond and Hazlewood still received credit on the LP, along with Ireen Sheer and new singer Sue Lynn.  Madeline Bell and P.P. Arnold also sang on the eclectic album which took in folk, rock and pop sounds far-removed from the group's original sunshine-pop influences.
The name of The Family Dogg was resurrected by Rowland in 1976 for a single on Arista with a Randy Edelman A-side, "Uptown Uptempo Woman."  But by that point, the core trio had moved on: Hammond to solo stardom, Rowland into the A&R field (where he worked with The Cure, The Thompson Twins and others) and Hazlewood as a working songwriter.  Christine Holmes moved into songwriting, too, eventually co-writing "Devil Woman" for Cliff Richard; Irene Sheer had her own Top 5 hit in 1973 – in Germany - with "Goodbye Mama."
RPM's A Way of Life: Anthology includes the complete recordings of each incarnation of The Family Dogg plus numerous, rare single recordings from Rowland, Sheer, and side projects "Steve and Albert" and "Pancho and Cisco."  Both LPs are included in full, plus all of the singles and one previously unreleased track of Rowland's, "We Stand Closer Together."  John Reed provides the exhaustive liner notes, and Simon Murphy has remastered all tracks.
The Family Dogg's A Way of Life: Anthology 1967-1976 is available now from RPM Records and can be ordered below!
The Family Dogg, A Way of Life: Anthology 1967-1976 (RPM Retro D947, 2014) (Amazon U.S. / Amazon U.K.)
CD 1
So Sad – Steve Rowland
I See Red – Steve Rowland
The Storm
Family Dog
I'll Wear a Silly Grin
Couldn't Help It
Brown-Eyed Girl
Let It Rain
A Way of Life
Throw It Away
Julie's Just Gone
All the Best Songs and Marches
In the Ghetto
Today I Killed a Man I Didn't Know
Pattern People
Save the Life of My Child
Love Minus Zero – No Limit
Reflections (Of Your Face)
Run, Run, Run, Fly, Fly, Fly
Moonshine Mary
You Were On My Mind
Place in the Sun
Arizona
The House in the Heather
Follow the Leader – Pancho and Cisco
Time of Your Life – Pancho and Cisco
We Stand Closer Together – Steve Rowland
CD 2
Follow the Bouncing Ball – Steve and Albert
I Don't Wanna Go to Sleep Again – Steve and Albert
When Tomorrow Comes Tomorrow
This Unhappy Heart of Mine
Sympathy – Steve Rowland the Family Dogg
Big Yellow Taxi – Irene Sheer
I Don't Wanna Go to Sleep Again – Irene Sheer
Hey Pleasure Man (You've Done It Again) – Irene Sheer
You Walked Away – Irene Sheer
Coat of Many Colours
Jesus Loves Me
I Wonder
Riker's Island
Like Janis
Crucify Your Mind
Trying to Put Me On
We Have All Been Saved
Sweet America
Inner City Blues
Forget it
Bethel Town Mission
Advice to Smokey Robinson
Child of Clay
Uptown Uptempo Woman
CD 1, Tracks 1-2 from Fontana single TF 844, 1967
CD 1, Tracks 3-4 from MGM single 1360, 1967
CD 1, Tracks 5-6 from Fontana single TF 921, 1968
CD 1, Tracks 7-8 from Fontana single TF 968, 1968
CD 1, Tracks 9-10 from Bell single BLL 1055, 1969
CD 1, Tracks 11-22 from A Way of Life, Bell LP SBLL 122, 1969
CD 1, Tracks 23-24 from Bell single BLL 1077, 1969
CD 1, Tracks 25-26 from Bell single BLL 1083, 1969
CD 1, Track 27 previously unreleased
CD 2, Tracks 1-2 from Bell single BLL 1088, 1970
CD 2, Tracks 3-4 from Bell single BLL 1100, 1970
CD 2, Track 5 from Dutch Polydor single 2001 007, 1970
CD 2, Tracks 6-7 from Bell single BLL 1110, 1970
CD 2, Tracks 8-9 from Bell single BLL 1129, 1970
CD 2, Tracks 10-11 from Bell single BLL 1139, 1971
CD 2, Tracks 12-22 from The View from Rowland's Head, Buddah LP 2318 061, 1972 (Track 16 only on U.K. edition, Track 20 only on U.S. edition)
CD 2, Track 23 first released 1990
CD 2, Track 24 from Arista single NG 786, 1976