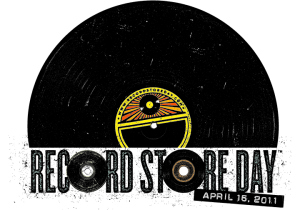 Mark your calendars if you haven't already, music fans: April 16 is the fourth annual Record Store Day! What started as a small declaration of independence for brick-and-mortar, mom-and-pop record stores in the face of industry decline has blossomed into a worldwide celebration with goodies provided by major and independent labels.
And because lots of record store fans are also big into catalogue stuff like you and me, a lot of the RSD exclusives focus on reissues or anniversary repressings in both single and album form. Yesterday, the full list of exclusives was finally released by the RSD committee - but we've pored through the list to bring you the biggest, brightest and best of catalogue Record Store Day exclusives.
We're so excited, we're not even going to put in a jump. Here's the best of the best below.
AC/DC (Columbia): a 7" of Back in Black favorite "Shoot to Thrill" backed with "War Machine" from the band's most recent album, Black Ice (2008).
Big Star (Omnivore): a "test pressing" edition of Third, recreating the original 14-track test pressing of the album in 1975, down to the master tape box and tracking sheets. (Five copies of original, un-recreated test pressings will be mixed into the 1,000 copies pressed, each signed by Jody Stephens and original engineers Larry Nix and John Fry.)
Kate Bush (Audio Fidelity): 1,000 copies of The Hounds of Love will be pressed on limited edition, 10" pink vinyl.
John Mayall and Eric Clapton (Sundazed): a 1,000-copy reissue of the 1966 non-LP single "Lonely Years" b/w "Bernard Jenkins." This single was issued a month after the iconic Blues Breakers album.
Deftones (Warner Bros.): Covers captures some of the Sacramento band's most beloved studio covers, from Sade and Lynyrd Skynyrd to Duran Duran and The Cars. 3,000 copies will be pressed.
Derek and The Dominos (Polydor/UMe): a 7" single of "Got to Get Better in a Little While" b/w "Layla" will be released to commemorate the upcoming Layla box set. 2,500 copies will be made.
Dio (Niji): The late singer's own label will reissue 2002's Killing the Dragon on 2,000 vinyl picture discs.
Bob Dylan (Columbia/Legacy): a vinyl version of Live at Brandeis University 1963 will be exclusively available at RSD-participating outlets for four weeks; it makes its own CD debut (after being the bonus disc with Amazon orders of the latest Bootleg Series entry) earlier that week.
Foo Fighters (RCA): Medium Rare, a compilation of covers, will be released on 120-gram vinyl as a nice companion piece to the band's forthcoming album, Wasting Light.
Jimi Hendrix (Experience Hendrix/Legacy): a vinyl single of the alternate version of "Fire" from the West Coast Seattle Boy box backed with an unreleased track, "Touch You," will be one release ("Cat Talking to Me," the B-side of last year's "Valleys of Neptune," appears on the CD single). Another CD single will feature Cee Lo Green's "Foxey Lady" and Santana's "Spanish Castle Music," from the Power of Soul compilation alongside an unreleased live version of "Purple Haze" by Robert Randolph and The Slide Brothers.
Michael Jackson (Epic): a 7" of tracks from 2010's Michael will be pressed, featuring new single "Hollywood Tonight" and "Behind the Mask."
Jimmy Eat World (ORG): a 10th anniversary triple-vinyl edition of 2001's Bleed American will be released with B-sides and other rarities added to the mix. 1,500 copies will be available. (This may be the same track list as the deluxe edition released on CD in 2008.)
Joan Jett and The Blackhearts (Blackheart Music): 1,000 copies of a limited clear-vinyl edition of the I Love Rock & Roll album will be released.
Nirvana (Geffen/UMe): the rare 1992 EP Hormoaning, released in Australia and Japan, will be repressed 4,000 copies strong.
Roy Orbison (Monument/Legacy): a 7" single of "Only the Lonely" b/w an unreleased live version of "Pretty Woman" will be pressed.
Ozzy Osbourne (Epic/Legacy): the ambassador for this year's Record Store Day will see the vinyl reissues of Blizzard of Ozz and Diary of a Madman into independent stores, about a month before expanded CD editions come out.
Pearl Jam (Epic/Legacy): Single and double-vinyl editions of Vs. and Vitalogy (to be released in a deluxe box next week).
Queen (Hollywood): the "Long Lost Retake" of "Keep Yourself Alive" will be released as a 7" single to promote the new reissues. It will be backed with "Son and Daughter."
Sonic Youth (Geffen/UMe): another Geffen artist with an Australian EP (with a similar name, even). 1993's Whores Moaning will also receive a 4,000 copy reissue.
Bruce Springsteen and The E Street Band (Columbia/Legacy): two outtakes from The Promise on 10" vinyl: "Gotta Get This Feeling" and "Racing in the Street ('78)."
Television (Rhino): a white double-vinyl version of the 1978 show at San Francisco's Old Waldorf (released by Rhino Handmade in 2003), limited to 3,000 units.
The Beach Boys (EMI/Capitol): to capitalize on the forthcoming Smile box, a double 10" 78 RPM set will be released, with one disc containing the original "Good Vibrations"/"Heroes and Villains" sides and the other containing alternate takes. There will be 5,000 copies of this one.
The Flaming Lips (Warner Bros.): the Heady Nuggs box set, limited to 5,790 copies, features the band's first five Warner Bros. LPs on vinyl.
The Velvet Underground (Sundazed): latter-day outtakes on a 7" single: "Foggy Notion" b/w "I Can't Stand It." Limited to 1,000 copies.
The Yardbirds (Sundazed): a reproduction of 1968 single "Goodnight Sweet Josephine" b/w "Think About It," limited to 2,000 copies.
Tom Petty and The Heartbreakers (Reprise): 2,500 copies of Tom Petty and The Heartbreakers (1976) on white vinyl and another 2,500 of You're Gonna Get It! (1978) on blue vinyl.
Various Artists (Kill Rock Stars): the grunge classic Kill Rock Stars compilation will be repressed for its 20th anniversary.