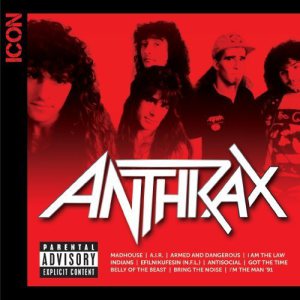 It's 2012, a new year full of new catalogue opportunities - and yet another batch of our favorite ridiculous, vaguely pointless series of compilations, UMe's ICON.
The generic collections pack nothing but hits into an 11-track set list, enabling the uninitiated to get a simple primer of their favorite artist for maybe $8 and change. This time around, the batch is very rock-oriented (mid-'80s Deep Purple, Anthrax, Cinderella, Uriah Heep) with some traces of late-'90s rap and R&B (Dru Hill, Ja Rule, BLACKstreet).
All the titles street next Tuesday, January 10 and can be pre-ordered on Amazon after the jump.
Deep Purple, ICON (Mercury/UMe B0016186-02, 2012)
Smoke on the Water (Live)
Hush (Live)
Woman from Tokyo (Live)
Knocking at Your Back Door
Call of the Wild
Perfect Strangers
Bad Attitude
Nobody's Home
Black Night (Live)
Child in Time (Live)
Strange Kind of Woman (Live)
Tracks 1-3 and 9-11 from Nobody's Perfect (Polydor, 1988)
Tracks 4, 6 and 8 from Perfect Strangers (Polydor, 1984)
Tracks 5 and 7 from The House of Blue Light (Polydor, 1987)
Dru Hill, ICON (Island/UMe B0016228-02, 2012)
In My Bed
Never Make a Promise
How Deep is Your Love
These Are the Times
5 Steps
I Should Be
You Are Everything
No Doubt (Work It)
I Love You
Beauty
Tell Me
Tracks 1-2, 5 and 11 from Dru Hill (Island, 1996)
Tracks 3-4, 7 and 10 from Enter the Dru (Island, 1998)
Tracks 6 and 8-9 from Dru World Order (Island, 2002)
Cinderella, ICON (Mercury/UMe B0016232-02, 2012)
Shake Me
Gypsy Road
Don't Know What You Got (Till It's Gone)
Shelter Me
Nobody's Fool
Somebody Save Me
The Last Mile
Heartbreak Station
The More Things Change
Bad Attitude Shuffle
Coming Home
Tracks 1 and 5-6 from Night Songs (Mercury, 1986)
Tracks 2-3, 7 and 11 from Long Cold Winter (Mercury, 1988)
Tracks 4 and 8-9 from Heartbreak Station (Mercury, 1990)
Track 10 from Still Climbing (Mercury, 1994)
Anthrax, ICON (Island/UMe B0016242-02, 2012)
Madhouse
A.I.R.
Armed and Dangerous
I Am the Law
Indians
Efilnikufesin (N.F.L.)
Antisocial
Got the Time
Belly of the Beast
Bring the Noise
I'm the Man '91
Tracks 1-3 from Spreading the Disease (Megaforce/Island, 1985)
Tracks 4-6 from Among the Living (Megaforce/Island, 1987)
Track 7 from State of Euphoria (Megaforce/Island, 1988)
Tracks 8-9 from Persistence of Time (Megaforce/Island, 1990)
Tracks 10-11 from Attack of the Killer B's (Megaforce/Island, 1991)
Uriah Heep, ICON (Hip-O/UMe B0016274-02, 2012)
Easy Livin'
July Morning
Free Me
Gypsy
Wonderworld
Lady in Black
Look at Yourself
The Wizard
Echoes in the Dark
Paradise/The Spell
Stealin'
Tracks 1, 8 and 10 from Demons and Wizards (Bronze, 1972)
Tracks 2 and 7 from Look at Yourself (Bronze, 1971)
Track 3 from Innocent Victim (Bronze, 1977)
Track 4 from Very 'eavy...Very 'umble (Vertigo, 1970)
Track 5 from Wonderworld (Bronze, 1974)
Track 6 from Salisbury (Vertigo, 1971)
Track 9 from The Magician's Birthday (Bronze, 1972)
Track 11 from Sweet Freedom (Bronze, 1973)
BLACKstreet, ICON (Island/UMe B0016296-02, 2012)
No Diggity
Booti Call
Before I Let You Go
Joy
Tonight's the Night
Never Gonna Let You Go
Don't Leave Me
I Can't Get You (Out of My Mind)
Fix
Coming Home to You
The Lord is Real (Time Will Reveal)
Tracks 1, 6-9 and 11 from Another Level (Interscope, 1996)
Tracks 2-5 from BLACKstreet (Interscope, 1994)
Track 10 from Get on the Bus: Original Motion Picture Soundtrack (Interscope, 1996)
Ja Rule, ICON (Def Jam/UMe B0016404-02, 2012)
Livin' It Up (featuring Case)
Put It on Me (featuring Lil' Mo & Vita)
Wonderful (featuring R. Kelly & Ashanti)
Mezmerize (featuring Ashanti)
Holla Holla
New York (featuring Fat Joe & Jadakiss)
We Here Now
Down Ass Bitch (featuring Charli Baltimore)
Between Me and You (featuring Christina Milian)
Thug Lovin' (featuring Bobby Brown)
Always on Time (featuring Ashanti)
Tracks 1, 8 and 11 from Pain is Love (Murder Inc./Def Jam, 2001)
Tracks 2 and 9 from Rule 3:36 (Murder Inc./Def Jam, 2000)
Tracks 3 and 6 from R.U.L.E. (Murder Inc./Def Jam, 2004)
Tracks 4 and 10 from The Last Temptation (Murder Inc./Def Jam, 2002)
Tracks 5 and 7 from Venni Vetti Vicci (Murder Inc./Def Jam, 1999)