Mike Oldfield was always more than "Tubular Bells." The 59-year-old multi-instrumentalist has continued to put out diverse, challenging music long after his signature tune was released nearly 40 years ago. In recent years, Universal Music Enterprises has done a great job of anthologizing Oldfield's work with expanded editions of his early works for Virgin Records; on August 14, not only will two new deluxe editions be released, but a brand-new career spanning compilation will hit stores as well.
UMe will next expand Platinum and QE2, Oldfield's last album of the 1970s and first of the 1980s, respectively. While Platinum saw Oldfield still pursuing progressive arrangements, as evidenced by the four-part suite on the first half of the record, he also started dabbling in reactions to popular sounds, including a cover of George and Ira Gershwin's standard "I Got Rhythm," the reactionary "Punkadiddle" and others. Oldfield would also have great success with non-LP singles, including disco track "Guilty" and the theme to the long-running British children's program Blue Peter. (In America, Platinum was remixed and resequenced as Airborn.) The expanded Platinum features "Blue Peter" and unreleased versions of parts of the Platinum suite, as well as a live show from London's Wembley Arena in 1980.
Follow-up album QE2 (named for the luxury ocean liner) furthers Oldfield's straddling between prog and pop, with covers of ABBA's "Arrival" and The Shadows' "Wonderful Land" in the mix. This expanded edition also features two non-LP tracks (including the single version of "Wonderful Land"), a new reworking of the album cut "Sheba" and another live disc from the ambitious Adventure Tour in Europe.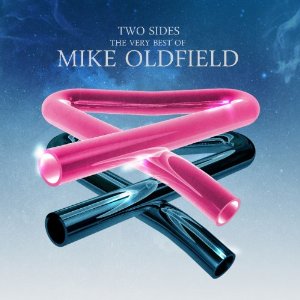 Finally, the double-disc Two Sides: The Very Best of Mike Oldfield offers a thorough and diverse overview of Oldfield's career, including hits for Virgin ("Tubular Bells," "Guilty," "Family Man," "Moonlight Shadow") and latter-day works released by Warner Bros. and Mercury.
You can order all three titles after the jump!
Platinum: Deluxe Edition (Mercury/UMe 5339422, 2012)
Disc 1: Expanded album
Platinum Part One: Airborn
Platinum Part Two: Platinum
Platinum Part Three: Charleston
Platinum Part Four: North Star/Platinum Finale
Woodhenge
Into Wonderland
Punkadiddle
I Got Rhythm
Platinum (Live Studio Edition)
North Star (2012 Remix)
Blue Peter
Disc 2: Live at Wembley Arena, May 1980
Platinum
Punkadiddle
I Got Rhythm
Polka
Incantations
Tubular Bells Part II
Guilty/Tubular Bells Part I Finale
Blue Peter/Portsmouth
William Tell
Disc 1, Tracks 1-8 released as Virgin LP V-2141 (U.K.), 1979
Disc 1, Tracks 9-10 and Disc 2 previously unreleased
Disc 1, Track 11 released as Virgin single A-side VS-317 (U.K.), 1979
QE2: Deluxe Edition (Mercury/UMe 5339418, 2012)
Disc 1: Expanded album
Taurus 1
Sheba
Conflict
Arrival
Wonderful Land
Mirage
QE2
Celt
Molly
Polka
Wonderful Land (Single Version)
Shiva (2012 Reworking of "Sheba")
Disc 2: Live in Essen, European Adventure Tour, April 1981
Taurus 1
Sheba
Mirage
Conflict
Ommadawn
Punkadiddle
Tubular Bells Part I
QE2
Portsmouth
Disc 1, Tracks 1-9 released as Virgin LP V-2181 (U.K.)/Epic FE 37358 (U.S.), 1980
Disc 1, Track 10 was the B-side to "Arrival" - Virgin VS-374 (U.K.), 1980
Disc 1, Track 11 was a double A-side with "Sheba" - Virgin VS-387 (U.K.), 1980
Disc 1, Track 12 and Disc 2 previously unreleased
Two Sides: The Very Best of Mike Oldfield (Hip-O/UMe 5339182, 2012)
Disc 1
Tubular Bells (Excerpt)
Ommadawn (Excerpt)
Crises
The Lake
Amarok (Excerpt 1)
Amarok (Excerpt 2)
Sentinel
Supernova
Ascension
The Tempest
Disc 2
Guilty (7" Version)
Family Man
Five Miles Out
Moonlight Shadow
Shadow on the Wall
To France
Etude
Magic Touch
Islands
Heaven's Open
Tattoo
The Song of the Sun
Summit Day
Lake Constance
Broad Sunlit Uplands
The Doge's Palace
Amber Light
Angelique
On My Heart
Disc 1, Track 1 from Tubular Bells (Virgin, 1973)
Disc 1, Track 2 from Ommadawn (Virgin, 1975)
Disc 1, Track 3 and Disc 2, Tracks 4-5 from Crises (Virgin, 1983)
Disc 1, Track 4 and Disc 2, Track 6 from Discovery (Virgin, 1984)
Disc 1, Tracks 5-6 from Amarok (Virgin, 1991)
Disc 1, Track 7 and Disc 2, Track 11 from Tubular Bells II (WEA, 1992)
Disc 1, Tracks 8-9 from The Songs of Distant Earth (Warner Bros., 1994)
Disc 1, Track 10 and Disc 2, Track 19 from Music of the Spheres (Mercury, 2008)
Disc 2, Track 1 was a non-LP single later released on Exposed (Virgin, 1979)
Disc 2, Tracks 2-3 from Five Miles Out (Virgin, 1982)
Disc 2, Track 7 from The Killing Fields: Original Motion Picture Soundtrack (Virgin, 1984)
Disc 2, Tracks 8-9 from Islands (Virgin, 1987)
Disc 2, Track 10 from Heaven's Open (Virgin, 1991)
Disc 2, Track 12 from Voyager (Warner Bros., 1996)
Disc 2, Track 13 from Guitars (Warner Bros., 1999)
Disc 2, Tracks 14-17 from The Millennium Bell (Warner Bros., 1999)
Disc 2, Track 18 from Light + Shade (Mercury, 2005)