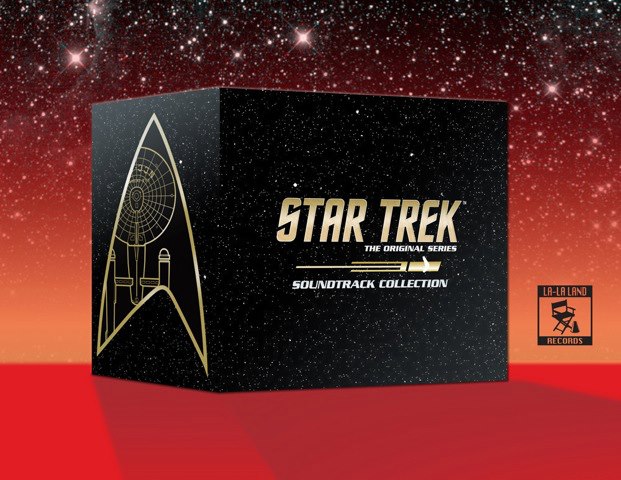 Until about a year before The Second Disc started, it seemed likelier to invent a warp drive than to get a decent reissue series of music from the Star Trek universe. All that changed in 2009, when Film Score Monthly released an remastered and expanded edition of James Horner's iconic soundtrack to Star Trek II: The Wrath of Khan (1982).
Over the next three years, the floodgates opened. All six of Paramount's films featuring the original television cast (for those keeping track, that's Jerry Goldsmith's The Motion Picture (1979), Horner's The Wrath of Khan and The Search for Spock (1984), Leonard Rosenman's The Voyage Home (1986), Goldsmith's The Final Frontier (1989) (expanded by La-La Land and given an unlimited reissue by Intrada) and Cliff Eidelman's The Undiscovered Country (1991)) have gotten the expanded score treatment; in addition, Film Score Monthly and La-La Land released box sets of music from the acclaimed Star Trek: The Next Generation television program, classic Trek gatekeepers GNP Crescendo issued a complete version of Goldsmith's score to TNG-era film First Contact and Varese Sarabande expanded their own album presentation of Michael Giacchino's music to the 2009 Trek reboot. La-La Land also announced earlier this year plans for a volume of music from the mid-'90s television series Star Trek: Deep Space Nine.
While there are still strange new worlds to seek out, the universe has just gotten a little brighter with another groundbreaking announcement from La-La Land: this year, they are releasing a 15-disc box set featuring every musical cue from Gene Roddenberry's original NBC television series, which ran from 1966 to 1969.
Once again, we boldly go where no one has gone before after the jump.
[youtube=http://www.youtube.com/watch?v=UA34dfODi4M]
About a decade before George Lucas' Star Wars, Roddenberry helped associate the vast reaches of outer space with a series that was thrilling but ultimately optimistic. Most alien beings in the Trek universe were working together for peace, and everyone from the mighty Klingon to the tiny, troublesome Tribble had a lesson to impart viewers with each week. The show made careers for William Shatner and Leonard Nimoy as the bold Captain James T. Kirk and his unflappable friend and first officer, the Vulcan Mr. Spock, not to mention countless others aboard the Enterprise. It had a lion's share of famous fans, too: Nichelle Nichols, the black actress who played Lt. Uhura, was convinced not to quit the show midway by no less than Dr. Martin Luther King, Jr., who saw her character as a symbolic victory for black performers.
As such, Roddenberry commissioned scores that shied away from sci-fi tropes like whirring theremins in favor of bold, symphonic offerings. At the center of this renaissance was Alexander Courage, whose jaunty main theme is still utilized within countless Trek sequels and spin-offs. But other greats, including Jerry Fielding, Fred Steiner and Sol Kaplan lent their gifts to the series - and for the first time, all of it is in one place. (GNP Crescendo had issued several discs of Original Series music in the late '80s and early '90s, and have licensed the rights to those scores to La-La Land to make this box truly authoritative.)
Not only does Star Trek: The Original Series Soundtrack Collection feature those scores, newly remastered and expanded under the watchful guidance of box set producer Lukas Kendall and music editor Neil S. Bulk, it also features a generous amount of material written for the series but either never released or never even used. This set marks the debut releases for any original music from the series' third season, as well as selected alternate and unused cues. The box also features a 100-page booklet with new, in-depth liner notes from noted Trek historian Jeff Bond.
The box will be available this fall. Fans can sign up on the label's website to sign up for a newsletter to learn more; the reception to that newsletter will gauge in what quantities the set will be available.