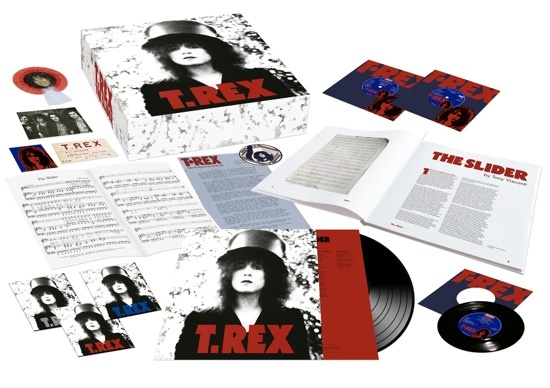 T. Rex's iconic The Slider is getting the super deluxe treatment from Edsel for its 40th anniversary, The Quietus reports.
The band's seventh album followed up the head-turning glam rock style of Electric Warrior, which featured the U.S. hits "Bang a Gong (Get It On)" and "Jeepster." Working again with producer Tony Visconti in Paris, The Slider is a tight, heavy-duty album - perhaps a bit denser than its predecessor, but no less rewarding. Singles "Telegram Sam" and the "festival of life" song "Metal Guru" did not chart highly in the U.S., but both appeared on the British charts for a combined 26 weeks and both peaked at No. 1.
Perhaps befitting an album of its stature, The Slider has been reissued many times. Edsel themselves first expanded the album on CD in 1994, adding three non-LP B-sides. A disc of alternate takes, Rabbit Fighter, was later included with this reissue as a two-disc set; all of those tracks were reissued on one disc by Rhino in 2002 (Reprise, also a Warner-owned label, handled original U.S. distribution for the LP).
[youtube=http://www.youtube.com/watch?v=NMfz-tbBPag]
While a full track list for this box set edition has not been announced, the aforementioned report indicates a multi-disc, CD, DVD and vinyl set, including the original album remastered by producer Visconti, B-sides and outtakes (including an unreleased version of "The Slider" from Visconti's personal collection), a DVD of new and vintage interview footage and live performances, 180-gram vinyl pressings of the original album and three singles ("Telegram Sam," "Metal Guru" and the promo-only "Chariot Choogle"), a hardcover book with liner notes and new essays by Visconti and Marc Bolan biographer Mark Paytress and other swag including a poster, sticker, a replica fan-club newsletter and even a book of sheet music for the songs on the album.
The box is due out in the U.K. on November 26 and can be pre-ordered here. Of course, keep it here for news on the set as it comes.